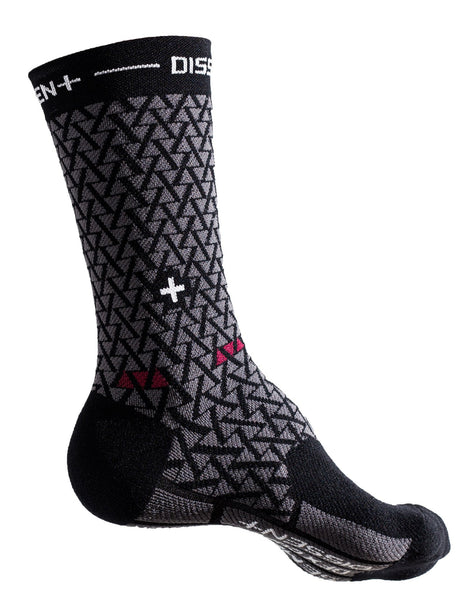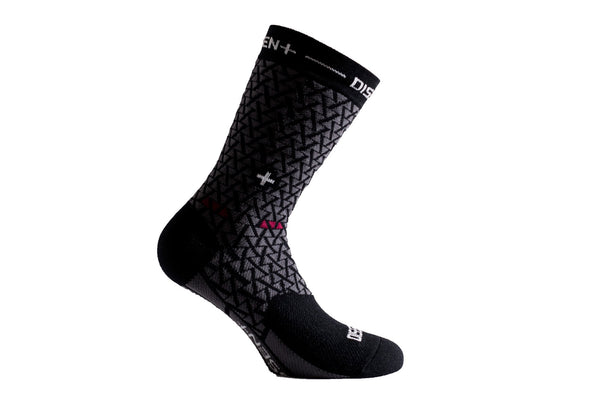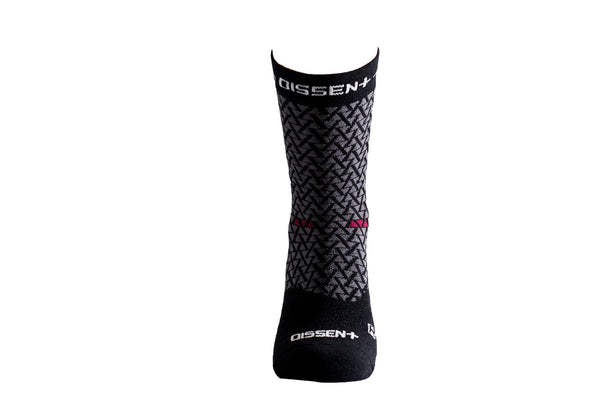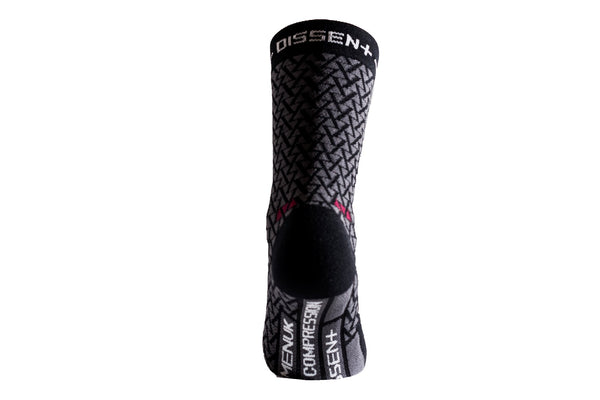 Dissent MTB GFX Semenuk Crew Signature
The new signature co-lab sock for Brandon Semenuk - specific design, patterning, and optimized padding for ankle-brace use and overall comfort. Enhanced low-profile GFX padding works to improve the fit and feel of modern riding footwear. Polygiene anti-odor permanent finishing.
The GFX Semenuk socks retain the Dissent locked-on fit and all-day comfort (the Dissent standard), while providing additional volume and plushness in the GFX padding.  Overall, you get the same dialed anti-friction-fit, breathability, and comfort features of the standard Genuflex (GFX) Crew's, with boosted overall protection.
To date, our standard Genuflex Crew socks are the best fitting, most locked-on, low-profile-yet-densely-padded sock in MTB - a design with a nod towards today's higher volume All-mountain/DH/Enduro style shoes.  These standard Genuflex Crew's tend to especially impress riders who are using ankle-braces (guys like Brandon, after trying a set for the first time in 2014) as these have a significant difference in fit and feel.  Even with ankle-brace lacing (and shoe closures) cranked up tightly, the regular Genuflex Crew padding helps keep your feet from going numb.
With the GFX Semenuk construction and patterning, we bent our own rules on the less-is-more, technical-yet-clean Dissent design mandate. This was 100% deliberate and calculated.  During prototyping, we took a lot of time and care to ensure the much loved Dissent fit was not compromised by the additional patterning.  Even the specific finishing inside of the socks is very calculated and purposeful.  The final result might just be one of the best feeling riding socks you will ever wear.
Dissent Features:
Engineered combination of compression and enhanced GFX padding - exceptional fit, plus a dense, thin layer of protection.
TRUE-Compression - best fit, best feel, increased ankle and arch support, reduced foot numbness.
Strategic 3-dimensional, second ply padding - added ankle and under foot protection.
High density all-over padding ideal for use with ankle braces - protection without bulk.
Effective, tall-cuff coverage.
Unrivaled memory and shape retention for the ultimate fit, wash after wash.
Engineered technical yarn-blend and knit - consistent fit and moisture-management, critical for all day comfort and blister prevention.
Seamless toe.
Durable.
Constructed using the best technologies available, using high needle-count machines, for exceptional feel and quality.
Small - US Men: 5 - 7.5, Euro: 36 - 39
Medium - US Men: 8 - 10, Euro: 40 - 43
Large - US Men: 10.5 - 12.5, Euro: 44 - 47
X-Large - US Men: 13+ - Euro: 48+